My years on Dental Implant experience, are now YOURS! I have been given unique access to the world of Dental Implants and the All-on-X procedure, that I felt the honor to share with others. For several years, I have been working with Dental Implant doctors, Implant brands, and helped develop new teeth materials.
In June of 2020, it became my turn to make the decision. I had a 5-unit bridge, on 3 anchor teeth, fail! Do I keep trying to salvage failed dental work, to try and keep my natural teeth, or do I bite the bullet and get a full set of fake teeth on my top row (the All-On-X)? I have been in these surgeries to film for Clinical Training, and from a personal level, I had seen what my mom, Elaine, had gone through, so I knew this wasn't as "easy" as its sometimes presented as. And then there is the COST of dental implants and All-On-X (All-On-4).
Once I decided to go through with it, I decided to dedicate this journey to my mom and provide tools for other "sons and moms" out there. I didn't want any discount or financial compensation for doing this project
i. Each doctor we interviewed, was not given the questions ahead of time, nor were they paid to do it
ii. Each individual that we filmed that had gone through this, did it out of their heart for others going though what they had gone through
iii. The tools that we will provide, are factual, without ANY sales tactics
With that spirit in mind, we traveled coast to coast (literally) and have compiled over 250 different videos to help YOU have all the education you need, to help avoid the ones who are "just in it for the money" and find the ones who really are good and can give a lifelong solution for your smile.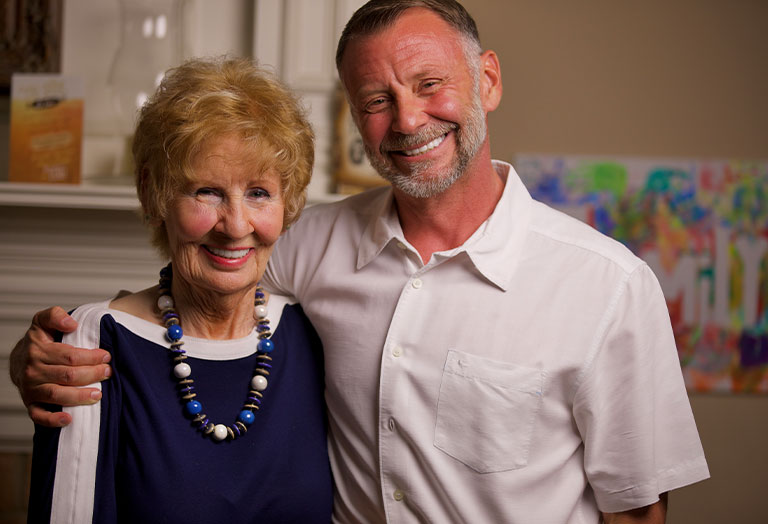 STRENGTH IN NUMBERS
Community is so important, and this is no exception. We want to hear from you, and we want you to engage your questions in hopes and fears when it comes to this level of life change. This is non-sponsored, non-advertised, and real people sharing hearts minds and hopes. Join us